We always hear about "shark scares" in the media. In Western Australia, the government is conducting a highly controversial shark cull, mostly because of fear that sharks are bad for business.
shark diving, swimming with sharks is fun, cage diving, bull sharks
So I was quite surprise to see this headline
"Shark sightings off Cape Cod a boon for tourism"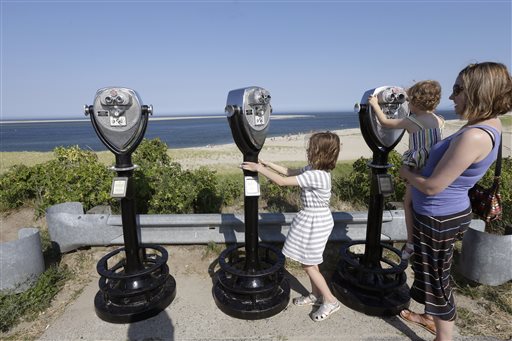 The East Valley Tribune writes "
In "Jaws," the fictional mayor tried to protect the summer tourism season by keeping a lid on reports of the man-eater lurking offshore. As sightings of great white sharks mount off Cape Cod in real life, however, businesses in the Massachusetts town of Chatham are embracing the frenzy."
Maybe the Western Australia government should visit Chatham Mass. and talk to their businesses. They would hear that instead of the great white sharks scaring tourists away, they actually attract them.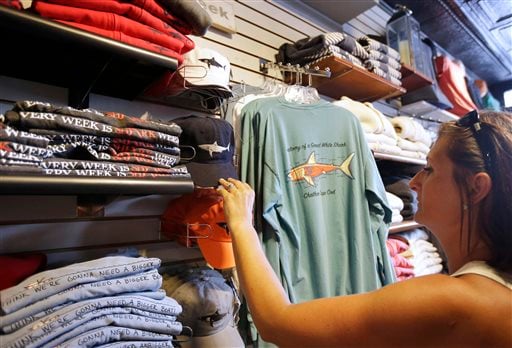 Shark T-shirts are everywhere, "Jaws" has been playing in local theaters and boat tours are taking more tourists out to see the huge seal population that keeps the sharks coming. Harbormasters have issued warnings but — unlike the sharks in the movies — the great whites generally are not seen as a threat to human swimmers.
No sensational headlines, no mass hysteria, no loss of business. Why don't we see more of this kind of reporting in the media?
A local business man is quoted as saying:
"I mean, truthfully, we've probably grown about 500 percent in terms of the sale of our shark apparel," he said. The T-shirts, hoodies, hats, belts, dog collars and other accessories bear the iconic, torpedo-shaped image of great whites and sell for between $10 and $45.
Read the entire article here
It's nice to see that an entire community has been embracing the
great white sharks
and found a way to use them to their benefit. This is an example, how humans and nature can benefit from each other. The people have a booming economy and the sharks don't get culled. Are you listening, Western Australia?
Cheers,
Martin Graf
CEO Shark Diver
About Shark Diver
. As a global leader in commercial shark diving and conservation initiatives Shark Diver has spent the past decade engaged for sharks around the world. Our blog highlights all aspects of both of these dynamic and shifting worlds. You can reach us directly at staff@sharkdiver.com.