Shark Diver
The Best Great White Shark Diving on the Planet, By Nautilus
CALL: 855.987.4275 or 619.887.4275
Welcome to the Adventure of a Lifetime
Get Up Close and Personal with Sharks in their Natural Habitat!
Conservation shark diving
Welcome to shark diver
Experience your own "Real Shark Week", go shark diving and find out what it is like to come face to face with the Oceans most feared predators. When it comes to shark conservation efforts and shark diving industry lead protocols for 'safe and sane shark diving,' Shark Diver has been at the forefront of this growing shark cage diving industry trend. Over the past 20 years, commercial shark diving has grown and matured to offer the very best of safe and remarkable shark encounters worldwide.
Today, shark diving fans can encounter many of the premier shark species at well-seasoned destinations. Shark Diver was the first commercial shark diving company in the USA to initiate, develop and support Mexican shark research efforts with Great White Sharks at Guadalupe Island. Since then we have gone on to initiate strong global shark conservation programs like The Shark-Free Marinas Initiative. Shark Diver is also a strong supporter of the Marine Conservation Science Institute, with a portion of our proceeds being donated to their Great White Shark photo ID project.
The goals for us here at Shark Diver are to be advocates for our sharks and our cage diving industry while delivering top shark species encounters to our divers, media outlets, and research partners.
We call it Conservation Shark Diving.
Divers and non-divers alike are the heart of Conservation Shark Diving. They are folks like you,  who love sharks and who care about the future of these magnificent animals – YOU are Shark Diver.
Join us this year on board any of our hand selected shark diving vessels to meet huge great white sharks (Carcharodon carcharias) at the volcanic island of Isla Guadalupe, or the playful and curious gray whales (Eschrichtius robustus) at the UNESCO World Heritage Site of San Ignacio Lagoon.
Travelers today are seeking adventures that deliver the extraordinary. Our all-inclusive pricing, record for shark diving safety, and valuable reputation make these shark encounters "once in a lifetime adventures!"
In a recent survey shark divers were more likely to join operations that gave back to the environment in real and tangible ways. We are proud to remain industry leaders in safe shark operations, shark site preservation efforts, shark site research support, and positive media efforts for sharks. For us, these are not just tag lines. We walk the walk, and our divers and research partners respect that.
Your vacation choices do make a difference in the places to which you travel. We're not here for the hype, and we never operate in places where you only 'might' see a shark. We KNOW these creatures will be where we take you. With a name like Shark Diver and decades of experience in the industry, we are confident to say we GUARANTEE shark sightings. Yes! You read that correctly. Shark Diver guarantees shark encounters.
This is your year; the year you will finally meet the sharks of your dreams. Your next adventure starts with an email or phone call. So, if you're ready, let's go shark diving!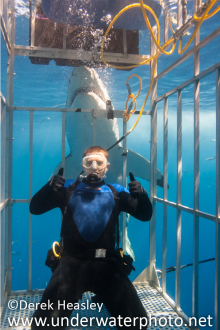 From $2,895 per person

July – November
6 Days, 5 Nights
Thanks to Hollywood, great white sharks (Carcharodon carcharias) might be the most under-appreciated and misunderstood animal in the ocean. Make no mistake, getting in the water with these white sharks is deeply emotional, scary, peaceful, exhilarating, awe-inspiring and much more.
REQUEST INFO
From $1,895 per person
Mid-January – Mid-April
4 Days, 3 Nights
Baja is the only place in the world where gray whales (Eschrichtius robustus) swim up to pangas to be stroked, petted, kissed, and even hugged. It's incredible. Interaction is entirely on the whales' terms, with mama whales even pushing their calves against the side of the boats to be stroked. Nobody should miss out on this experience.
REQUEST INFO